The best ads at the highest rates
We offer the best payout by partnering with over 50 of the internet's top ad suppliers, including Google Ads & Adx, AppNexus, Amazon a9, AOL Marketplace, and Yahoo. Since all our advertising partners compete against each other to place their advertising on your site, you get the best possible revenue for each ad.
Seasoned ad pros negotiating on your behalf
Trying to find your own advertisers can take up a ton of time, and with a single advertiser, you never know if you are getting the best deal. With WordAds, you get multiple advertisers with the convenience of only having to sign up for one program. And since we do all the legwork and negotiation, you can be confident that you're getting great rates. Stop worrying about ads and get back to doing what you do best, making awesome content.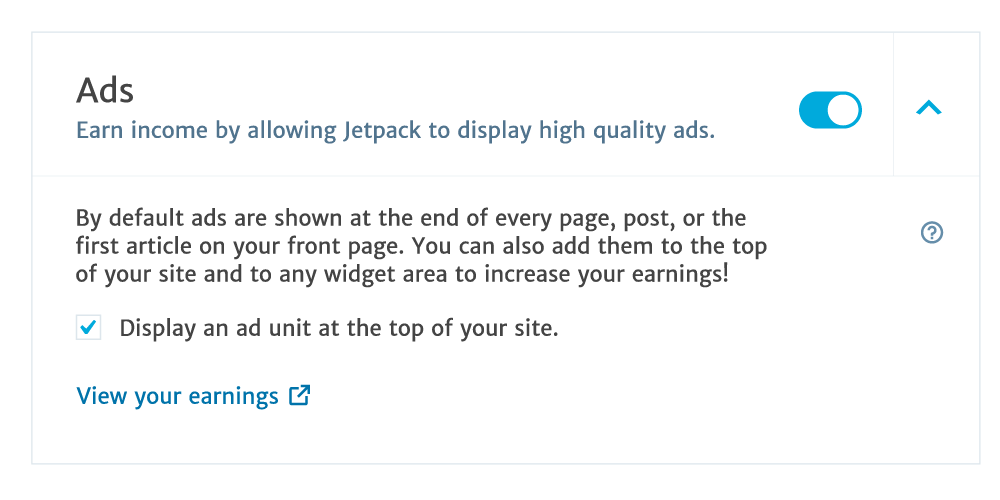 Simple install
After you complete the application, you can install WordAds on your site in just a few clicks. No coding required! WordAds places the ads automatically, optimizes their placement in your page layout to give you the best return. No need to approve individual ads. Just turn it on and WordAds does the rest.
High quality ads
We only partner with advertisers that display family-friendly ads, and our fraud prevention team proactively identifies malicious ads. That means WordAds won't place an advertisement that contains nudity, promotes gambling, or makes fraudulent claims on your site, and you don't have to worry what visitors will see. If you have any questions, Automattic's global team of happiness engineers are always available to address any questions and concerns.
Click here
to see some examples of the ads most commonly displayed.
Automated ad targeting
WordAds uses retargeting, broad prospecting ads, private deals, and video campaigns to show your visitors ads to are relevant to them. This means that the ads displayed to your readers are based off their own browsing history. If they visit a commercial site they love, chances are they'll see an ad on your site for those products. Each reader will experience different ads, targeted just for them.