Ad Options on WordPress.com
Q: What are my options for advertising on WordPress.com
A: There are currently two options. 1) With WordAds, we run ads on all your pages and share the majority of the revenue with you. 2) With WordPress.com VIP (aimed at enterprise websites), you can run your own ads.
Q: Can I run WordAds on my self-hosted WordPress.org site?
A: Why yes! WordAds is available for all Jetpack users on the Premium or Professional plan. Help getting started.
Ad creative and placement
Q: What do the ads look like?
A: WordAds currently has two placement options:
1) The Simple Ad option appears both at the bottom of the first post on the home page and at the bottom of the article pages. The ad size here is called a Middle Rectangle. An example of a site with this ad unit is Seth Adam Smith | on a LITERAL odyssey.
In the US and Europe in particular we run a lot of video ads. Here are examples:
2) In addition to the Middle Rectangle unit mentioned above, the Optimized Ad layout has one or both of the following ad units: a Leaderboard horizontal unit in the header and a Skyscraper vertical unit in one of the sidebars. Optimized Ads requires approval for each site by our advertisers. There are also limitations on the themes that can run here as some themes will not accommodate these additional ads. You can view a list of Optimized Ads themes here.
An example of an Optimized Ads site is The Simpons' Tapped Out Addicts.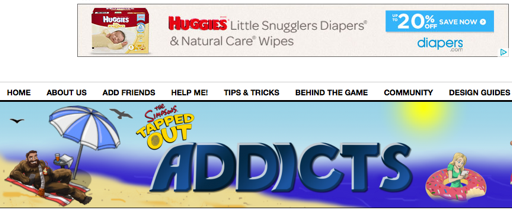 We occasionally test new types of ads for brief periods and will update this list if any are successful enough to continue with.
Q: Can the ads be more contextual to the content on my site?
A: The ads tend to be broad national campaigns, rather than targeted local or topical campaigns. We have found that the broad campaigns pay better. That said, visitors from countries outside the US and Europe will often see targeted local ads.
Q: Can I choose which ads will run?
A: While you do have limited control over the display of your ads via Settings -> WordAds in your blog's Dashboard, picking certain advertisers is not currently an option. Rest assured we do our best to maintain the highest standards for WordAds creatives. We do have the ability to block specific ads network-wide, so if you see an ad featuring sex, drugs, or violence, please make a screenshot and right-click the ad to copy the URL it's linked to. Don't click the ad directly, as it will probably redirect to a different URL. Once you have those, please feel free to contact us.
Q: Can I have fewer ads per page, more ads per page or different placement of the ads?
A: Some bloggers would like different ad placements. WordAds is constrained in offering unlimited options as we need to customize each of the hundreds of WordPress.com themes to accommodate ads.
Q: What do the ads look like in other countries?
A: While the ad placements are the same globally, some countries have their own advertisers. This means that only the advertisements themselves differ.
Earnings & payment
Q: Where can I see my earnings?
A: After your first month with WordAds, you'll be able to see your earnings via the Earnings tab at Settings -> WordAds in your blog's Dashboard.
Q: Can I get more information to explain to my earnings?
A: Generally, we are paid for impression, not by click. That means the more visits you get, and the more each visitor uses your site, the more you will earn.
What you earn can vary greatly per blog, depending on the following factors:
The amount of traffic.
Where the majority of the traffic is coming from. (North American ad placements currently pay-out at a much greater level than international ads.)
How many are using ad blockers.
The actual ads that are displayed.
Q: Do ads run in emails or mobile phones?
A: WordAds does not run in emails but do run on smart phones, which is a fast growing traffic segment.
Q: Why do you need my Social Security number?
A: We would prefer not to have to ask for it, but the IRS requires that we do if you are a US citizen.
Q: How and when do I get paid?
A: WordAds pays once per month via Paypal. Payments are sent around the last day of the following month. If you did not earn at least $100 in the month, your earnings will carry over to the next month instead.
Eligibility
Q: I applied to WordAds. When will it be available to me?
A: Our advertisers do have a minimum traffic requirement. Once you reach that, your application will be automatically sent to them for evaluation.
Q: What is the minimum traffic requirement?
A: We cannot reveal the exact minimum publicly, but a site generally needs thousands of page views each month to earn meaningful revenue.
Q: Why do I need a custom domain name?
A: We are unable to provide WordAds for blogs with the default free [example].wordpress.com URL, so you'll need to either register a new domain name or map an existing domain name to your WordPress.com blog of choice.
Launching and pausing
Q: What do I need to do to launch WordAds.
A: After you have filled out our application and met the minimum traffic requirement, your site will be reviewed to make sure it complies with the publisher standards. We will then launch WordAds and notify you via your account email address.
Q: Can I stop WordAds?
A: You can pause or stop WordAds any time at Settings -> WordAds in your blog's Dashboard. Be aware that if you pause WordAds you may still see ads on your site, unless you have a Premium or Business plan.
New features
Q: What are your plans for the future of WordAds?
A: Much of the work that WordAds does is on the back-end, negotiating deals with ad partners globally. Our primary goal today is to increase the payments per page for all our sites. We also are putting energy into customizing new themes for WordAds.
WordAds is conceived as a trusted advertising advisor, rather than as an open marketplace for advertising products. We have tested and continue to test dozens of ad partners and products so that our bloggers do not have to. Some sites have asked if they can add a specific ad network or if they can sell ads themselves. WordAds is not a good fit for sites that want total freedom to run whatever ads program they please.
If you have any more questions about WordAds, or need further help with your WordAds account, please contact us through our inquiry form.